Founded as a family business in 1955, dalau™ has grown to become the largest polytetrafluoroethylene (PTFE) processor in the United Kingdom and now has subsidiaries in New Hampshire, USA and in Türkheim, Germany, exporting to 35 Countries around the world.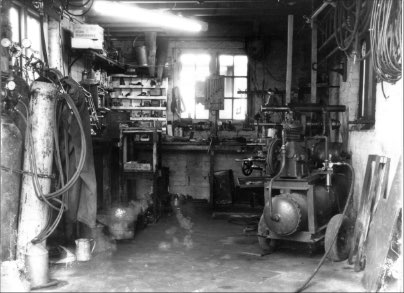 Specialising in producing high quality extruded rod, moulded rod & tube, skived films & sheets and machined components, we use only the finest quality virgin PTFE. We also offer these products in a wide range of filled grades and colours. dalau™ high quality products have been specified for some of the world's most prestigious projects. They are extensively used across a diverse range of industrial sectors. Recognised for our innovative approach to product design and development as well as our high standards of quality control, all products are manufactured under the dalcon™ trademark that distinguishes our high quality PTFE products from others. We place great emphasis on total quality performance based on our fully Computerised Statistical Process Control (SPC) systems. This, together with and excellent customer service has proved significant to the growth and development of dalau™ over the years.
Company History
1955

Brothers David and Laurence recognise an opportunity with Marconi/General Electric for P.T.F.E. a relatively new material. The company name, dalau™, comes from the first two and first three letters respectively of David and Laurence. In those early days it all began in a garage here at Normanhurst, using a basic press and the family cooker to process the P.T.F.E.

The company's progress was rapid and a new custom built factory was commissioned on the outskirts of Clacton. Management of the company remained within the Sage Family, with the next generation all actively involved in key positions.

1962

1980

The company continues to grow adding to the original building.

dalau™ Ltd opens dalau™ inc in New Hampshire, USA to handle its North American activities.

1990

1997

dalau™ Ltd establishes Northern Europe offices in Dusseldorf, Germany to consolidate on its European presence.

dalau™Ltd celebrates 50 years in business.

2005

2006

dalau™ Ltd installs the latest Cincinnati Lamb CFV5si High precision 5-axis vertical machining centre with a Global Status high performance CMM and a Smartscope Personal Metrology System. dalau™ given AS9100 Aerospace Approval.

dalau™ Ltd - New Factory, Clacton-on-Sea, UK dalau™ UK acquire an additional 15,000sqft factory to expand their business into other Fluoropolymer products including PVDF, PCTFE and PEEK.

2011

2012

dalau™ Suzhou Company Ltd opens for business in China. Their first factory in Asia, is a new 20,000sq ft factory in Suzhou, that has been equipped with the latest technology to satisfy the stringent demands of the LCD, LED, Flat Screen TV, Laminated Circuit Board and Semiconductor markets and makes dalau™ Ltd a global supplier of Fluoropolymer products.

dalau™ takes delivery of a new DMG DMU50 increasing its capabilities for making larger components for the Semiconductor, Aerospace and Chemical Industries.

2012

2013

"We've done it again" Gone and bought a new DMG BETA 1250TC 5 Axis machining center. Capable of machining 406mm diameter x 406mm Long.