PTFE Films
As the one of the UK's leading thermoplastics manufacturers, we can produce your PTFE film and sheets in a variety of thicknesses, cut them to bespoke sizes to fit your needs.
PTFE films are manufactured from Polytetrafluoroethylene polymer, which makes it durable, low friction and non-sticky.
These films consist of high-temperature barrier, and no erosion effect is witnessed on the application of harsh chemicals and other solvents. The PTFE films are mostly used in the manufacturing of products, where anti-frictional material is highly preferred.
Dalau's barrier films are formed from high quality, virgin PTFE resins which are moulded into billets, sintered and skived to the required thickness with extremely tight tolerance control. During the skiving, the block is fixed and rotates at a high speed, and the sharpe blade shaves it evenly into film continuously.
PTFE Sheets
PTFE sheets, like our specialist fluoropolymer tubes and rods, are highly effective in a variety of business scenarios. Due to the material's strong and highly durable properties, the sheets can be used in a wide range of applications:
In electricals, because PTFE sheets are also a great provider of electrical insulation, they can also be used as electrical cord and wire wrapping
In the chemical industry, the sheeting can be used to make several different fluoropolymer products, from gaskets, rings and washers to vessel linings and chemical tanks
Due to their non-stick and temperature-resistant qualities, they are ideal for use in the food and beverage and pharmaceutical industries as seals, scrapers, guides, slide bearings, insulators, washers and rollers.
Clean Room Facility
Our Superior PTFE dalcon™ skived Film is now produced in a fully enclosed Class 10,000 clean room with inline Static Eliminators and Finite Roll Tension Control to give a superior finished product to meet the exacting requirements of the PCB, LCD, TFT and Semi-Conductor industries.
Play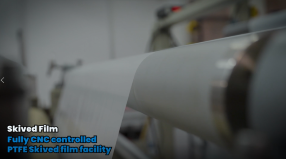 Quick Quote