Back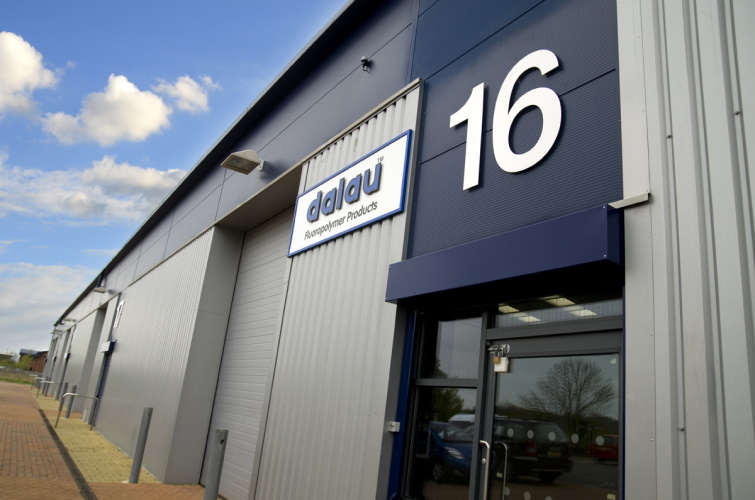 Dalau is a market leader in the field of PTFE and Fluoropolymer processing in the UK and Europe, exporting high quality products around the globe across a range of industrial sectors.
But what makes Dalau such a trusted manufacturer for clients across a multitude of industries? To put it simply, our dedication to full customisation and superior processes- often developed specifically by us to retain full control over the manufacturing process from start to finish and ensure exceptional quality for our clients.
Our Fluoropolymer range includes PCTFE, PFA, ETFE, PTFE, PEEK and many more, which have the following superior characteristics:
High chemical resistance
Broad working temperature range
Strength and durability
Low co-efficient of friction to solid
Extreme dielectric properties
High purity and inertness
For clients requiring high quality extruded and moulded plastic, rods are produced through our in-house designed and built extrusion system. Extrusion is the process to ensure a constant cross-sectional cut of materials using a die. With Dalau, this die is completely customisable depending on the end-product use and application.
Once PTFE components have been fabricated by ram or extrusion and compression moulding, our state-of-the-art latest model of CNC (Computer Numerical Control) machining then meets precise dimension requirements of finished parts. This includes CNC turning, milling and routing with capabilities to produce micro and nano components from <1mm to 480mm diameter and a bore of a tiny 0.2mm. Our CNC Swiss sliding head lathes allow the component piece to move in the Z-axis whilst the programmed tool remains stationary. Alongside our multi axis machinery, we're able to produce first-class quality products with smooth surface finish and at a very complex level.
There are a huge number of applications for components in different industries, including aerospace, medical, electronics and chemical. We can even produce speciality films for the production of Fuel Cells used in electric buses and cars, as well as components for hospital ventilators.
We've also developed a proprietary Statistical Process Control (SPC) system which was first approved in 1956 by the Aeronautical Inspectorate Directorate (AID). This demonstrates our commitment to exceptional quality for our clients and is complimented by a TQM (Total Quality Management) system at the heart of everything we do. Every part of the production process is recorded on the SPC system, which allows us to monitor and maintain the highest production standards through complex computer models. This means full traceability for clients and meeting the exacting standards of:
| | | |
| --- | --- | --- |
| Nos. | Dalau Accreditations: | Title |
| 1 | ISO 9001:2015 | Quality Management System |
| 2 | AS 9100:2018 | Aerospace Quality Management System |
| 3 | ISO 14001:2015 | Environmental Management System |
| 4 | ISO 45001:2018 | Occupational Health & Safety Management System |
| 5 | ISO 13485:2015 (In process) | Medical Quality Management System. |
| 6 | WRAS Approval  | Water Regulatory Advisory Scheme |
| 7 | UL – Yellow Card | UL Lab |
| 8 | Disability Confident Certificate | Disability Confident Scheme – UK Government |
Clients can be assured that every aspect of their processing requirements is in capable, trusted hands with Dalau.
Get in touch with us today to discuss how we can help you.
Back